Regular price
Sale price
$60
Unit price
per
Sale
Sold out
The perfect formula for MIND—BODY Balance
Our Body Balance is a 1000MG CBD & 1000MG CBG made from hemp-derived CBG and CBD Isolate, so it's THC-free. Perfectly blended with Ginger, Turmeric, Black Cumin, and Rosemary. It works by binding to both endo-cannabinoid receptors (CB1 and CB2), where it's shown the possibility of strengthening the function of Anandamide. The neurotransmitter Anandamide naturally found in your body enhances pleasure and motivation, regulates appetite and sleep, and alleviates pain.
INGREDIENTS

Ginger, Turmeric, Black Cumin, Rosemary, Highly Concentrated Hemp Extract, MCT Coconut Oil
FDA STATEMENT

This statement has not been evaluated by the Food and Drug Administration.This product is not intended to diagnose, treat, cure, or prevent any disease.
View full details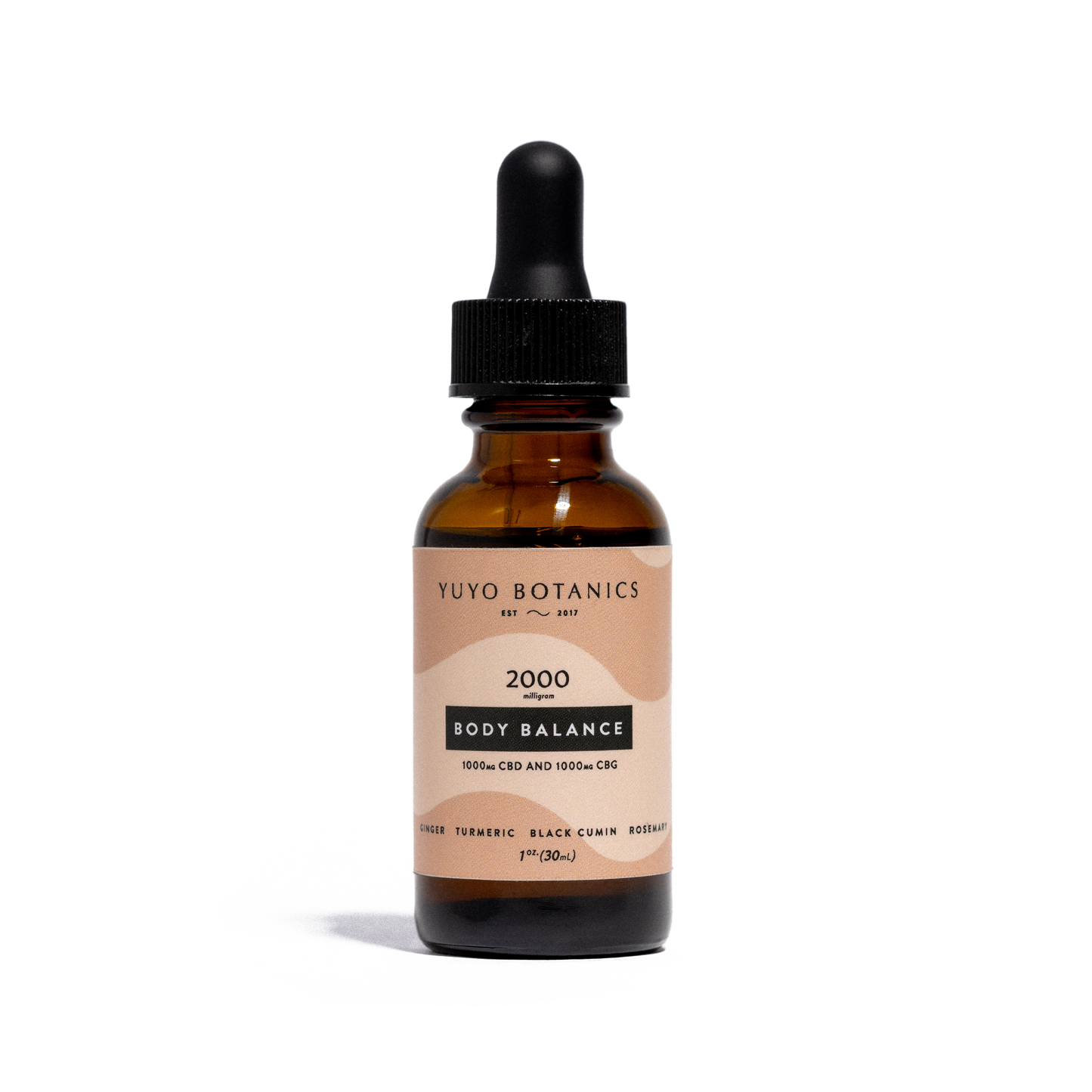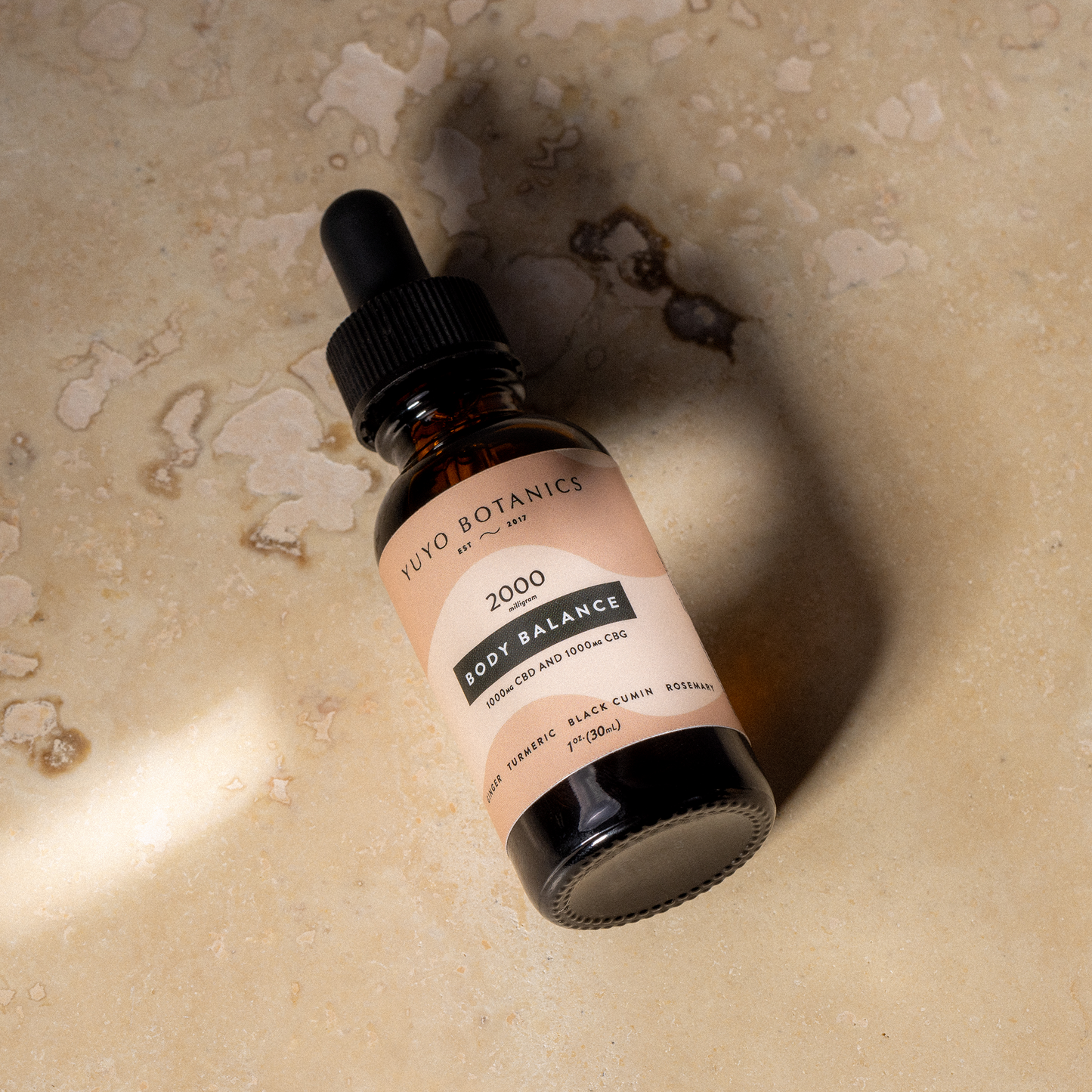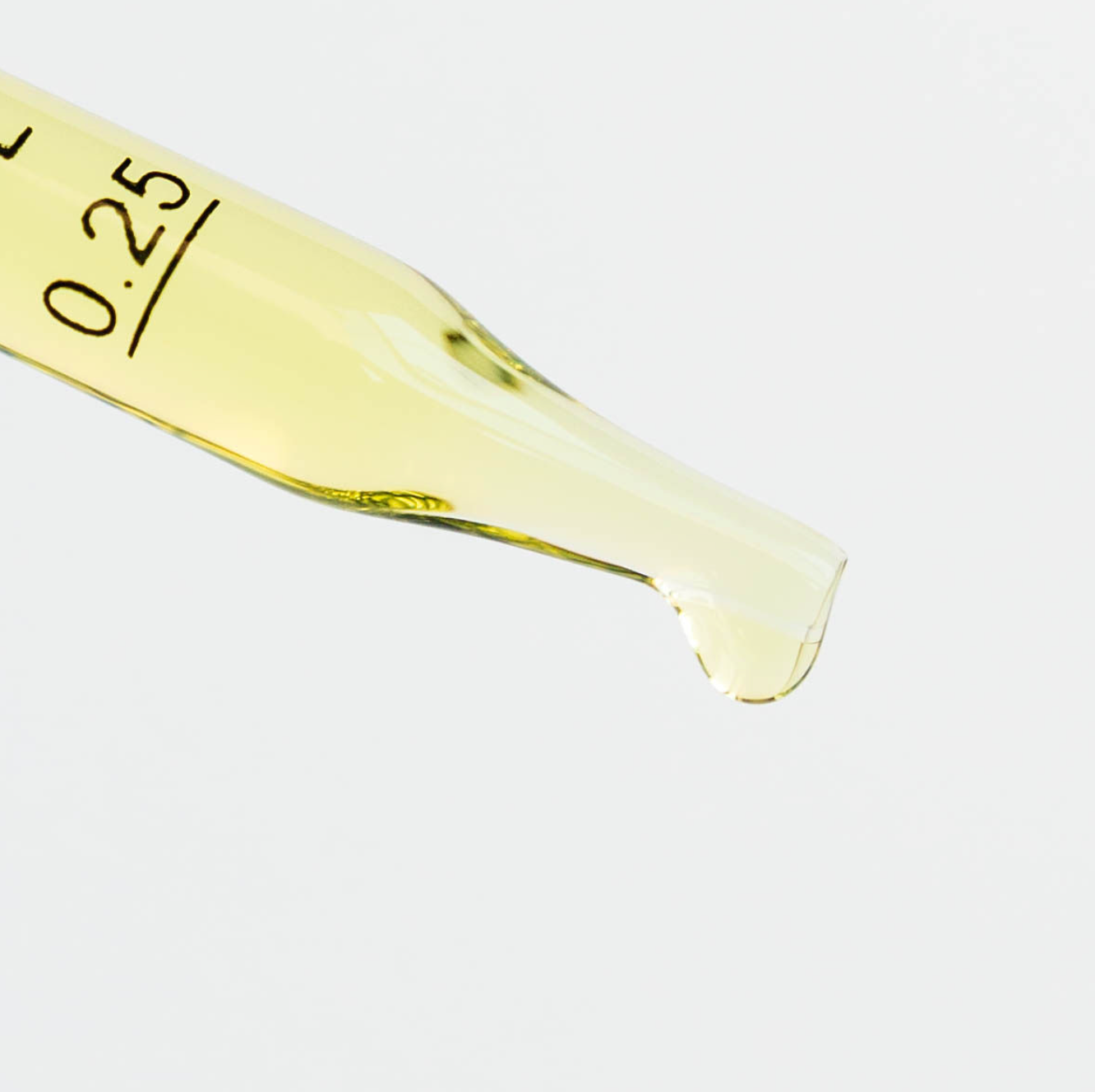 What's Inside
Ginger

Ginger is one of the healthiest spices you can add to your diet. Its bio-active compound gingerol is responsible for the roots' anti-bacterial, antioxidant capabilities. This warming spice can help treat a cold and soothe a sore throat.

Rosemary

Studies have shown that the carnosic and rosmarinic acids in rosemary have powerful antibacterial, antiviral, and antifungal properties. Consuming rosemary regularly can potentially help lower the risk of infection and help the immune system fight any infections that do occur.

Black Cumin

The medicinal use of black cumin seeds in various traditional herbal systems is known for a wide range of ailments which include different airway disorders, for pain such as chronic headache and back pain, diabetes, paralysis, infection, inflammation, hypertension, and digestive tract related problems.

Turmeric

Turmeric's active component curcumin is rich in antioxidants and anti-inflammatory properties. Because of this, it can help heal the pain caused due to arthritis. Turmeric is also good for your immunity, skin, and digestion.

Highly Concentrated Hemp Extract

CBG (Cannabigerol) is thought to strengthen the function of anandamide, a neurotransmitter that plays a role in enhancing pleasure and motivation, regulating appetite and sleep, and alleviating pain.There is evidence that suggests CBG improves overall intestinal inflammatory response, and reducing systems of leaky gut by reducing intestinal permeability.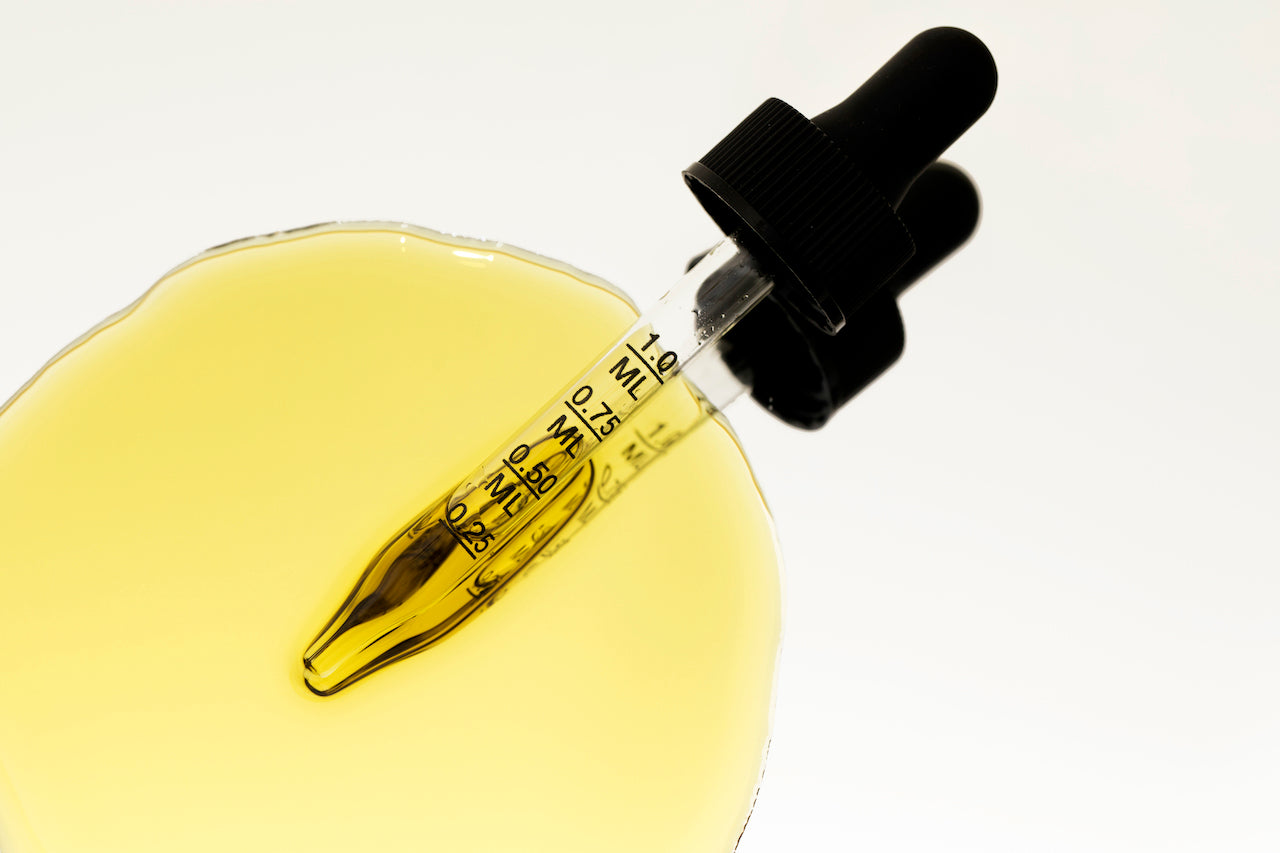 How To Use
Why a tincture? The sublingual delivery method is one of the quickest ways to efficiently get cannabinoids in your system, by bypassing your digestive system and allowing cannabinoids to absorb straight into your bloodstream and to your cannabinoid system. We suggest CBD is taken every day to fully experience its positive effects holistically.

There are two suggested methods for helping support your endo-cannabinoid system — Microdocing throughout the day (small doses several times a day to help you feel your best) or once a day the same as any vitamin regimen. Everybody's body is different, and experiencing both methods will help you find which is best for you and your desired outcome.

Adults take 1/2 dropper to 1 full dropper twice daily. Place dosage under tongue and allow to absorb for at least 60 seconds, then swallow. This allows the tincture to absorb sublingually. Allow for a 15-30 minutes to feel effects. This bottle provides about a 30-day supply.
Our commitment to you and the earth.
Sustainability

We are working towards making our packaging 100 % sustainable by minimizing single-use plastic components.

Learn More

Transparency

All consumer products are manufactured in our own TDA Licensed Lab #SLIY-BBXJ9X and made in the USA.

Learn More

Quality

Yuyo Products are 3rd party tested for potency and safety by Encore Labs, California USA.

Learn More